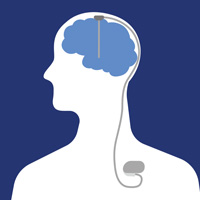 Pacemakers have been known for years as an effective means of regulating heart rhythms, but there's another device based on similar technology that's improving life for patients with movement disorders. It's called deep brain stimulation (DBS) and it uses electrical stimulation to alleviate the symptoms of Parkinson's disease, dystonia and essential tremors. If you're a candidate, neurosurgeons at Overlook Medical Center will implant a lead with electrodes in your brain and connect it to a control device in your chest. A few weeks later, our movement disorder specialists will program DBS, so that it sends the right amount of stimulation for your needs. Learn more >
Parkinson's Disease Programs and Screenings

Education and prevention can keep you and your loved ones healthy. We invite you to take advantage of the programs, support groups and screenings available. Adults 65 and older who are looking to stay well with age may benefit from events labeled "New Vitality."

8th Annual Day of Hope: Living Well with Parkinson's Disease
Learn about new Parkinson's disease research and resources available to patients and caregivers. Wellness and support program demonstrations, vendor exhibits, and light breakfast and snacks are included.
Saturday, October 5; 8:30am to 12:45pm
Overlook Medical Center, Bouras Auditorium
For more information and to register, please call 1-800-247-9580.

Wellness and Support Program for Parkinson's Disease
This program offers Parkinson's disease patients and their families educational seminars, exercise and integrative medicine classes, and counseling and therapy services.
For more about upcoming program dates, please call 908-522-5901.

Parkinson's Exercise Group
This program uses the Lee Silverman Voice Treatment BIG™ program to optimize mobility in patients with Parkinson's disease and other movement disorders. A prescription is necessary to participate.
Every Friday, 11:00am to Noon
Overlook Downtown, 357 Springfield Avenue, Summit, NJ
For more information and to register, please call 908-522-2215.
Parkinson's Disease Articles