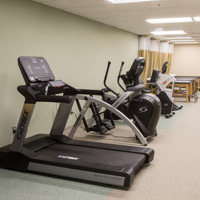 Atlantic Rehabilitation continues to give you convenient options for recovery after an injury or surgery, so you can get back to your daily routine faster. We recently opened a location at 333 Route 46 West in Mountain Lakes, New Jersey. Physical therapy will be available there on Mondays, Wednesdays and Fridays from 10:00am to 6:00pm. For more information, call 973-939-6221.
Orthopedics Programs and Screenings
Education and prevention can keep you and your loved ones healthy. We invite you to take advantage of the programs, support groups and screenings available. Adults 65 and older who are looking to stay well with age may benefit from events labeled "New Vitality."

Amputee Walking School
This education and training program can help persons with lower extremity prosthetics improve their mobility. Breakfast will be served.


View all dates and locations >



Bone Density Screenings for Women
Find out if you are at risk for developing osteoporosis with a noninvasive ultrasound that provides immediate results. Counseling and educational materials also are provided. Registration is required.
Fee: $10
Mondays; 10:00am to 1:00pm
Overlook Downtown, 357 Springfield Avenue, Summit, NJ

Total Joint Replacement Pre-Operative Classes
Orthopedic nurses and therapists provide education on how to prepare for your total joint replacement surgery and the return home afterwards.
Mondays, 1:00 to 3:00pm and select Tuesdays, Noon to 2:00pm
Overlook Medical Center, Bouras Auditorium
For dates and times or to register, call 1-800-247-9580.

Chambers Center for Well Being
The Chambers Center for Well Being can help you develop a personal plan for a healthier lifestyle. Through lectures, classes and therapeutic services, we'll show you how stress management, proper dietary balance and increased exercise can improve your overall well-being – mind, body and spirit. View a full list of classes, services and related fees or call 908-598-7997.
Orthopedics Articles