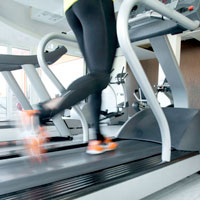 If you're a student athlete, coach or weekend warrior, you know that competitive excellence is achieved not only through the body, but also the mind. That's why we've put together a repository of articles and webinars – many of which featuring our sports medicine specialists – that will give you the knowledge to perform at your best. Topics include nutrition, hydration, concussions, general workout tips and more.
Check out our new patient education and resources now >
Orthopedics Programs and Screenings
Education and prevention can keep you and your loved ones healthy. We invite you to take advantage of the programs, support groups and screenings available. Unless otherwise noted, to register for any of these programs call 1-800-247-9580 Monday through Thursday between 8:30am to 8:00pm and Friday between 8:30am and 4:30pm, or sign-up online at Atlantic Health System's classes and events registration; all programs are free unless a fee is indicated.

Amputee Walking School
This education and training program can help persons with lower extremity prosthetics improve their mobility.
Atlantic Rehabilitation, 550 Central Avenue, New Providence, NJ
For more information visit and to register, please call 1-800-247-9580.

View a list of dates and locations >



Bone Density Screenings for Women
Find out if you are at risk for developing osteoporosis with a noninvasive ultrasound that provides immediate results. Counseling and educational materials also are provided. Registration is required.
Fee: $10
Mondays, 10:00am to 1:00pm
Overlook Downtown, 357 Springfield Avenue, Summit, NJ

Chambers Center for Well Being
The Chambers Center for Well Being can help you develop a personal plan for a healthier lifestyle. Through lectures, classes and therapeutic services, we'll show you how stress management, proper dietary balance and increased exercise can improve your overall well-being – mind, body and spirit. View a full list of classes, services and related fees or call 908-598-7997.
Orthopedics Articles