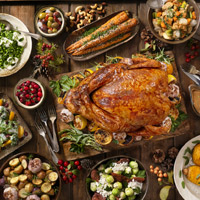 When it comes to holiday eating, one of the biggest mistakes people make is skipping breakfast and lunch in prep for a big dinner. Although this may seem like a way to minimize calories throughout the day, this approach lends itself to overeating and ultimately putting on the pounds. Nutritionists instead recommend eating a hearty breakfast and lunch rich in fibers on the day of a holiday meal to control hunger. If you still find yourself craving second helpings at dinner, wait 10 to 20 minutes before actually filling your plate. This gives your brain time to recognize if you're actually full.
Healthy Diet Programs and Screenings
Education and prevention can keep you and your loved ones healthy. We invite you to take advantage of the programs, support groups and screenings available. Unless otherwise noted, to register for any of these programs call 1-800-247-9580 Monday through Thursday between 8:30am to 8:00pm and Friday between 8:30am and 4:30pm, or sign-up online at Atlantic Health System's classes and events registration; all programs are free unless a fee is indicated.
Healthy Holidays Supermarket Tour
Go on a tour of a grocery store and learn how to make healthy food choices and control portions during the holidays.
Tuesday, December 4; 10:00am
ShopRite of Clark, 76 Central Avenue, Clark, NJ
For more information or to register, please call 1-844-472-8499.

Chambers Center for Well Being
The Chambers Center for Well Being can help you develop a personal plan for a healthier lifestyle. Through lectures, classes and therapeutic services, we'll show you how stress management, proper dietary balance and increased exercise can improve your overall well-being – mind, body and spirit. View a full list of classes, services and related fees > or call 973-971-6301.
Healthy Diet Articles