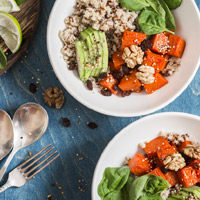 Looking for an easy way to eat healthy? Grab yourself a bowl. Many restaurants now offer a selection of bowl-based meals that are convenient and often nutritious. When ordering, look for bowls with fruits, vegetables or lean proteins as the main ingredients, while steering clear of those made up of fried chicken, cheese or other fatty options. Learn how you can create your own healthy bowls >
Healthy Diet Programs and Screenings
Education and prevention can keep you and your loved ones healthy. We invite you to take advantage of the programs, support groups and screenings available. Unless otherwise noted, to register for any of these programs call 1-800-247-9580 Monday through Thursday between 8:30am to 8:00pm and Friday between 8:30am and 4:30pm, or sign-up online at Atlantic Health System's classes and events registration; all programs are free unless a fee is indicated.

Your Health Matters Lecture Series: What Should I Eat for Heart Health?
Take a tour of a Whole Foods store while having all of your questions answered by a cardiologist.
Saturday, April 14; 10:00 to 11:30am
Whole Foods, 319 Chimney Rock Road, Bridgewater, NJ
For more information and to register, please call 1-800-247-9580.

Chambers Center for Well Being
The Chambers Center for Well Being can help you develop a personal plan for a healthier lifestyle. Through lectures, classes and therapeutic services, we'll show you how stress management, proper dietary balance and increased exercise can improve your overall well-being – mind, body and spirit. View a full list of classes, services and related fees > or call 973-971-6301.
Healthy Diet Articles