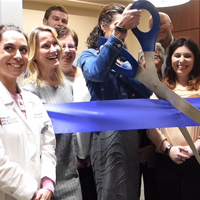 November 29, 2017 will forever be remembered as a banner day in the advancement of brain tumor treatment and research in New Jersey. That was when Overlook Medical Center officially opened the Gerald J. Glasser Brain Tumor Center, offering services that were previously only available in New York and Philadelphia. In addition to state-of-the-art technology and cutting-edge clinical trials, patients coming to our center will have access to supportive care, like nutrition guidance, pain management and nurse navigators. Read more about the generous donation that made this possible >
Seniors' Health Programs and Screenings
Education and prevention can keep you and your loved ones healthy. We invite you to take advantage of the programs, support groups and screenings available. Unless otherwise noted, to register for any of these programs call 1-800-247-9580 Monday through Thursday between 8:30am to 8:00pm and Friday between 8:30am and 4:30pm, or sign-up online at Atlantic Health System's classes and events registration; all programs are free unless a fee is indicated.

BMI Screenings and Cervical Health Education
Receive a body mass index and body fat analysis screening and discover how your results are impacting your health. Interested participants can also learn about human papillomavirus (HPV) and cervical cancer prevention.
Tuesday, January 9; 11:00am to 1:00pm
ShopRite of Clark, 76 Central Avenue, Clark, NJ
For more information and to register, please call 1-800-247-9580.

Healing Arts for the Caregiver: Expressive Writing Group
During this four-week workshop, caregivers will use expressive writing exercises to connect with their peers and help reduce stress.
Tuesdays, January 9 through 30; 1:30 to 3:00pm
Overlook Medical Center, Thomas Glasser Caregivers Center
For more information and to register, please call 908-522-6348.

Reading, Writing and Reflecting to Explore Graceful Aging
Participants will closely read a text designed to encourage thoughts about what aging gracefully means to them.
Wednesday, January 24; 12:30 to 2:00pm
Westfield YMCA, 220 Clark Street, Westfield, NJ
For more information and to register, please call 1-800-247-9580.

Pump it Up: Habits for a Healthy Heart
This interactive health fair will teach the benefits of healthy cooking, how oral health impacts the heart and the importance of physical activity. Children are welcome and samples from the cooking demonstrations will be provided.
Thursday, February 8; 12:30 to 2:00pm
Overlook Medical Center
For more information and to register, please call 1-800-247-9580.

Feed Your Heart
Learn how diet impacts your heart health and how to read a food label. Heart-healthy recipes and snack samples will be provided.
Wednesday, February 14; 10:30 to 11:30am
ShopRite of Union, 2401 US Highway 22 West, Union, NJ
For more information and to register, please call 1-800-247-9580.

Bone Density Screenings for Women
Find out if you are at risk for developing osteoporosis with a noninvasive ultrasound that provides immediate results. Counseling and educational materials also are provided. Registration is required.
Fee: $10
Mondays, 10:00am to 1:00pm
Overlook Downtown, 357 Springfield Avenue, Summit, NJ

Alzheimer's New Jersey Caregiver Support Group
Caregivers of adults with Alzheimer's disease and other dementia-related disorders can receive mutual support and education.
Fourth Thursday of every month, 7:00 to 8:30pm*
Overlook Medical Center, 5th Floor, Conference Room 3
For more information and to register, please call 973-845-6777.
*Meets on the Third Thursday of the month in November and December.

Lifestyle Change Program
We all know that a healthy lifestyle will help you feel and look your best. In this 12-week program, you'll learn how to reach and maintain all of your fitness, weight and wellness goals using supervised exercises, stress management and the nutrition plan of renowned physician Joel Fuhrman, MD.
Fee: $775 ($400 deposit required)
Mondays and Wednesdays; 10:00am to Noon, 11:00am to 1:00pm, 5:00 to 7:00pm or 6:00 to 8:00pm
Chambers Center for Well Being, 435 South Street, Morristown, NJ
For more information and a schedule, please call 973-971-4890.

New Vitality Senior Supper Club
New Vitality members can enjoy a discounted three-course dinner with beverage at the Summit Grille. Parking is free.
Fee: $5
Every Thursday, 4:30 to 6:30pm
Overlook Medical Center, Fourth Floor, Summit Grille
To obtain a membership card, please call 908-522-2963.
Seniors' Health Articles