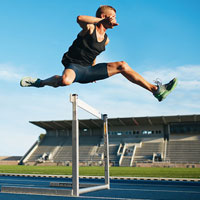 Although regular exercise is essential to a healthy lifestyle, some athletes may be at risk for sudden cardiac death while partaking in rigorous physical activity. That's why Gagnon Cardiovascular Institute and Atlantic Sports Health offer a sports cardiology program that can identify complex heart abnormalities before they become a tragedy on the field of play. Services include state-of-the-art cardiovascular imaging, stress tests, cardiopulmonary exercise tests and more. Based on individual results, our experts will provide education and recommendations for safe levels of physical activity.
Exercise/Fitness Programs and Screenings
Education and prevention can keep you and your loved ones healthy. We invite you to take advantage of the programs, support groups and screenings available. Unless otherwise noted, to register for any of these programs call 1-800-247-9580 Monday through Thursday between 8:30am to 8:00pm and Friday between 8:30am and 4:30pm or sign-up online at Atlantic Health System's classes and events registration; all programs are free unless a fee is indicated.
Wellness and Performance Program
Members of our program will have access to individualized workout sessions, group exercise classes and post-rehabilitation fitness.
Fees: $60 per month; $55 per hour for personal training
Atlantic Rehabilitation, 550 Central Avenue, New Providence, NJ
For more information, please call 908-522-2215.
AlterG Anti-Gravity Treadmill® Trial
The anti-gravity treadmill allows you to exercise weightlessly, reducing stress on your legs. This can benefit athletes recovering from an injury or patients with pain that limits their movements.
Atlantic Rehabilitation, 550 Central Avenue, New Providence, NJ
For more information and to schedule a free trial, please call 908-522-2215.

Golf Performance Screening
Receive a golf swing analysis and customized exercises to improve your game. Different packages and individual sessions are available.
Atlantic Rehabilitation, 550 Central Avenue, New Providence, NJ
For more information and to schedule an appointment, please call 908-522-2215.

Exercise/Fitness Articles