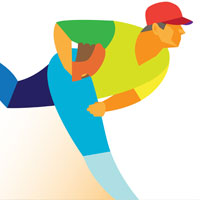 While it may seem like Tommy John Surgery is the price to pay to be a big league pitcher today, it's particularly troubling when increasing numbers of younger athletes are undergoing these types of ligament repair procedures. With baseball and softball season fully upon us, experts at Atlantic Sports Health recommend that parents and coaches follow the guidelines of the CDC and Little League Baseball to prevent overuse injuries. Specifically, maximum pitch count, rest period and types of pitches thrown should be strictly adhered to by age group. For more tips, check out the latest issue of Well Aware Kids >
Pediatrics Programs and Screenings

Education and prevention can keep you and your loved ones healthy. We invite you to take advantage of the programs, support groups and screenings available. Unless otherwise noted, for a schedule, fees, class location and to register for the below Parent Education programs, please call 908-522-2946. Click here to print out calendars with a full list of programs offered.
Prepared Childbirth: Instruction for Labor and Birth
Topics include the birth process, such as signs and symptoms of labor, stages of labor, when to go to the hospital and what to bring with you; pain management strategies, such as breathing and relaxation techniques, comfort measures, massage, positioning, hydrotherapy, medication options and epidural anesthesia; hospital procedures; cesarean section; and physical and emotional recovery after birth. A tour of our maternity center and childbirth films are included. This class is also available in Spanish.
Childbirth Mini Class: Your Baby's Birth
Topics include the childbirth process, signs and stages of labor, and when to go to the hospital. Participants will also view a birthing video and take a tour of our maternity center, which provides an overview of the labor, delivery and postpartum experience at Overlook Medical Center.
Mindful Pregnancy and Birth
Topics include mindful meditation and breathing, stages of labor, comfort measures and positioning, medical interventions, choices in pain management, and hands-on practices. This class combines most of the material covered in our Prepared Childbirth program.
ABC's of Going Home with Your Baby
Topics include basic infant care, diapering, dressing, bathing, swaddling, holding, soothing, when to call the baby's doctor and how to manage with pets at home. Safety issues will also be addressed, including sleeping, cribs, car seats, baby products and baby-proofing your home.
Breastfeeding Your Baby: Getting Started
Topics include breast milk production, skin-to-skin care, positioning and latching, how long and often to feed, and how to tell if the baby is getting enough milk. Partners are welcome. This class is included as part of our all-day Prepared Childbirth sessions.
Breastfeeding Support Group: "The First Weeks at Home and Beyond"
This support group offers an opportunity for breastfeeding mothers and their babies to engage in open discussion on how to breastfeed successfully. Topics include common issues that arise during feeding, returning to the workplace, and proper use of a breast pump and milk storage.

Pediatrics Articles