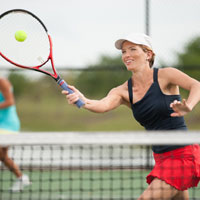 Although regular exercise is essential to a healthy lifestyle, some athletes may be at risk for sudden cardiac death while partaking in rigorous physical activity. That's why Gagnon Cardiovascular Institute and Atlantic Sports Health offer a sports cardiology program that can identify complex heart abnormalities before they become a tragedy on the field of play. Services include state-of-the-art cardiovascular imaging, stress tests, cardiopulmonary exercise tests and more. Based on individual results, our experts will provide education and recommendations for safe levels of physical activity.
Women's Heart Health Programs and Screenings
Education and prevention can keep you and your loved ones healthy. We invite you to take advantage of the programs, support groups and screenings available. Unless otherwise noted, to register for any of these programs call 1-800-247-9580 Monday through Thursday between 8:30am to 8:00pm and Friday between 8:30am and 4:30pm, or sign-up online at Atlantic Health System's classes and events registration; all programs are free unless a fee is indicated.

Blood Pressure Screenings
Make sure you are at or below 120/80 - the national guideline for blood pressure. Counseling and educational materials will be provided.
Mondays, 10:00am to 1:00pm
Overlook Downtown, 357 Springfield Avenue, Summit, NJ

Chambers Center for Well Being
The Chambers Center for Well Being can help you develop a personal plan for a healthier lifestyle. Through lectures, classes and therapeutic services, we'll show you how stress management, proper dietary balance and increased exercise can improve your overall well-being – mind, body and spirit. View a full list of classes, services and related fees or call 908-598-7997.
Women's Heart Health Articles