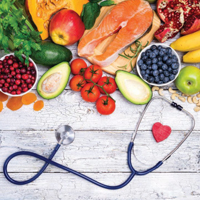 Finding new ways to eat healthy doesn't have to be a tough nut to crack. Just grab yourself a handful of walnuts, almonds or pistachios and you'll be well on your way to improving your heart. Over time, these snacks can help lower cholesterol, reduce the buildup of plaque in the arteries and prevent blood clots. Try eating nuts a few times a week to reap the greatest nutritional benefit. For other heart-healthy foods, check out a recent issue of AtlanticView >
Women's Heart Health Programs and Screenings
Education and prevention can keep you and your loved ones healthy. We invite you to take advantage of the programs, support groups and screenings available. Unless otherwise noted, to register for any of these programs call 1-800-247-9580 Monday through Thursday between 8:30am to 8:00pm and Friday between 8:30am and 4:30pm, or sign-up online at Atlantic Health System's classes and events registration; all programs are free unless a fee is indicated.

Know Your Numbers
Have your blood pressure measured and learn your risk for Type 2 diabetes with a non-fasting finger stick that gives immediate results. Counseling and educational materials will be provided; registration is required.
Tuesday, November 27; 1:00pm to 3:00pm
North Plainfield Library, 6 Rockview Ave, North Plainfield, NJ
For more information and to register, please call 1-800-247-9580.

Chambers Center for Well Being
The Chambers Center for Well Being can help you develop a personal plan for a healthier lifestyle. Through lectures, classes and therapeutic services, we'll show you how stress management, proper dietary balance and increased exercise can improve your overall well-being – mind, body and spirit. View a full list of classes, services and related fees or call 908-598-7997.
Women's Heart Health Articles