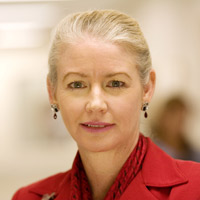 It's time for a frank conversation about women's heart disease and who better to have it with than Atlantic Health System experts and nationally-recognized cardiologist C. Noel Bairey Merz. As the director of the Barbara Streisand Women's Heart Center in Los Angeles, Dr. Merz has been consulted for her expertise by countless television shows and magazines. Her next appearance will be at Morristown Medical Center, where she'll lecture on various aspects of women's heart health, including the role of exercise, stress management, nutrition and more. Atlantic Health System cardiologists – Linda Gilliam, Claire Boccia Liang and Stephen Winters – will also join the conversation as part of a discussion panel. The event takes place on Friday, April 26, from 10:30am to Noon in our Malcolm Forbes Amphitheater. Register now >
Women's Heart Health Programs and Screenings
Education and prevention can keep you and your loved ones healthy. We invite you to take advantage of the programs, support groups and screenings available. Adults 65 and older who are looking to stay well with age may benefit from events labeled "New Vitality."
New Vitality: Heart-Healthy Living
About half of all Americans have at least one of the three main risk factors for heart disease. Stay healthy by learning about the heart's anatomy, common cardiovascular conditions and prevention tips.
Tuesday, March 19; 10:00 to 11:00am
Millburn Public Library, 200 Glen Avenue, Millburn, NJ
Presenter: Margaret Jones, RN, BSN, Complex Care Coordinator, Heart Success Program
For more information and to register, call 1-844-472-8499.
Chambers Center for Well Being
The Chambers Center for Well Being can help you develop a personal plan for a healthier lifestyle. Through lectures, classes and therapeutic services, we'll show you how stress management, proper dietary balance and increased exercise can improve your overall well-being – mind, body and spirit. View a full list of classes, services and related fees or call 908-598-7997.
Women's Heart Health Articles