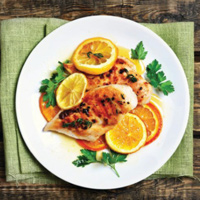 Put the autumn comfort food on hold. There's still plenty of time to enjoy healthy summertime meals on the barbecue. Overlook Medical Center's Chef Todd has a recipe for orange tarragon chicken that will make your grill the envy of the neighborhood. It uses basic ingredients to prepare a tasty marinade and dressing and the total cooking time is just six to eight minutes.
Get the full recipe >

Weight Management Programs and Screenings
Education and prevention can keep you and your loved ones healthy. We invite you to take advantage of the programs, support groups and screenings available. Adults 65 and older who are looking to stay well with age may benefit from events labeled "New Vitality."
Body Mass Index, Body Fat Analysis and Glucose Screenings
Learn if you're at risk for Type 2 diabetes with a BMI and body fat analysis and a non-fasting finger stick that provides immediate blood sugar results. Individual counseling and educational materials will be available.

Tuesday, September 3; 10:00am to Noon
Gateway YMCA, 1000 Galloping Hill Road, Union, NJ

Thursday, September 5; 10:00am to Noon
Westfield YMCA, 220 Clark Street, Westfield, NJ

Tuesday, September 10; 11:00am to 1:00pm
ShopRite of Clark, 76 Central Avenue, Clark, NJ

Wednesday, September 11; 11:00am to 2:00pm
Overlook Medical Center, Fourth Floor Cafeteria

Thursday, September 12; 10:00am to Noon
Scotch Plains YMCA, 1340 Martine Avenue, Scotch Plains, NJ

Monday, September 16; 11:00am to 2:00pm
ShopRite of Garwood, 563 North Avenue East, Garwood, NJ


Tuesday, September 17; 10:00am to Noon
Maplewood Township City Hall, 574 Valley Street, Maplewood, NJ


Thursday, September 19; Noon to 2:00pm




ShopRite of Union, 2401 US Highway 22 West, Union, NJ
For more information or to register, please call 908-522-2842.

Weight Loss Information Seminars
Learn about available weight loss treatment options.
First Monday of every month, 7:00 to 8:00pm
(No meeting in August)
Overlook Medical Center, Bouras Auditorium
To register, please call 973-232-2300.

Second Tuesday of every month, 6:30 to 7:30pm
Overlook Medical Center, Bouras Auditorium
To register, please call 1-908-312-2618.

Multidisciplinary Medical and Surgical Approaches to Weight Loss
This class provides an overview of available weight loss treatment options.
Third Monday of every month; 6:00 to 7:00pm
To register, please call 1-877-664-9682.

Weight Loss Surgery Support Groups
Share strategies that have worked for you and learn from others who have had bariatric surgery.

First Monday of every month, 6:00 to 7:00pm
(No meeting in August)
Overlook Medical Center, Bouras Auditorium
To register, please call 973-232-2300.

Third Tuesday of every month, 6:00 to 7:00pm
193 Morris Avenue, 2nd Floor, Springfield, NJ
To register, please call 908-842-0196.

Third Monday of every month, 12:45 to 1:45pm
Medical Arts Center (MAC) I, Suite 206
33 Overlook Road, Summit, NJ
To register, please call 908-522-5794.

Chambers Center by PALM Health
Our state-of-the-art, personalized medicine clinic and wellness club offers a comprehensive range of medical, preventive care, mental health, fitness, nutrition, spa and therapeutic services designed to improve overall well-being. Learn more >
Weight Management Articles