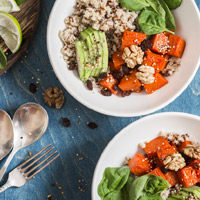 Looking for an easy way to eat healthy? Grab yourself a bowl. Many restaurants now offer a selection of bowl-based meals that are convenient and often nutritious. When ordering, look for bowls with fruits, vegetables or lean proteins as the main ingredients, while steering clear of those made up of fried chicken, cheese or other fatty options. Learn how you can create your own healthy bowls >
Weight Management Programs and Screenings
Education and prevention can keep you and your loved ones healthy. We invite you to take advantage of the programs, support groups and screenings available.

Steps Toward a Healthy You
Learn how to make physical activity part of your daily routine. Our exercise physiologist will provide fitness instruction, including guidelines, safety and general tips. A workout kit and T-shirt are included; please wear comfortable clothing and sneakers.
Wednesdays, April 11 through May 16; 1:00 to 2:00pm
Atlantic Rehabilitation – New Providence, 550 Central Avenue, New Providence, NJ
For more information and to register, please call 1-800-247-9580.

Strategies for Success
This eight-week educational program uses weigh-ins and medical consultations with a doctor, dietician and psychologist to help patients lose weight. Focus is placed on reducing calories and requires full dedication to ensure success. For dates, fees and more information, please call 908-522-5794.

Atlantic Health Weight & Wellness Center Classes and Support Groups
The following are held at 99 Beauvoir Avenue, Summit, NJ. To register, please call 1-800-247-9580.

Multidisciplinary Medical and Surgical Approaches to Weight Loss
This class provides an overview of available weight loss treatment options.
Third Monday of every month, 6:00 to 7:00pm
Please call for specific location.

Weight Loss Surgery Support Groups
Share strategies that have worked for you and learn from others who have had bariatric surgery.

First Monday of every month
6:00 to 7:00pm
Bouras Auditorium
Presenter: Muhammad Feteiha, MD

First and third Tuesday of every month
6:00 to 7:00pm
193 Morris Avenue, 2nd Floor, Springfield, NJ
Presenter: Ajay Goyal, MD

Third Monday of every month
12:45 to 1:45pm
Medical Arts Center (MAC) I, Suite 206

Chambers Center for Well Being
The Chambers Center for Well Being can help you develop a personal plan for a healthier lifestyle. Through lectures, classes and therapeutic services, we'll show you how stress management, proper dietary balance and increased exercise can improve your overall well-being – mind, body and spirit. View a full list of classes, services and related fees > or call 908-598-7997.
Weight Management Articles