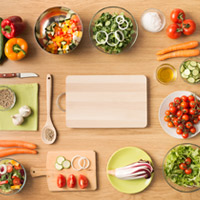 One of the biggest obstacles to eating healthy is finding time to prepare meals, but there's a solution for busy families. It's called "batch" or bulk cooking. Simply pre-prep ingredients to shorten future cooking times or double the size of a recipe and freeze the extra portions. Although this requires some planning and preparation up front, it not only saves time, but may also save you money in the long run. For even speedier meal prep, consider investing in a pressure cooker, which can cook frozen food without defrosting. Read more and get a recipe for pulled pork loin >
Weight Management Programs and Screenings
Education and prevention can keep you and your loved ones healthy. We invite you to take advantage of the programs, support groups and screenings available.

Is Bariatric Surgery Right for Me?
The New Jersey Bariatric Center presents this live webinar, where you can learn about surgical and non-surgical weight loss options.
Thursdays, November 8 and December 13, 6:00 to 7:00pm
For more information, or to register, call 908-481-1270.

Healthy Holidays Supermarket Tour
Go on a tour of a grocery store and learn how to make healthy food choices and control portions during the holidays.
Thursday, November 8, 10:00am or
Tuesday, December 4; 10:00am
ShopRite of Clark, 76 Central Avenue, Clark, NJ
For more information or to register, please call 1-844-472-8499.

Atlantic Health Weight & Wellness Center Classes and Support Groups
The following are held at 99 Beauvoir Avenue, Summit, NJ. To register, please call 1-800-247-9580.

Multidisciplinary Medical and Surgical Approaches to Weight Loss
This class provides an overview of available weight loss treatment options.
Third Monday of every month, 6:00 to 7:00pm
Please call for specific location.

Weight Loss Surgery Support Groups
Share strategies that have worked for you and learn from others who have had bariatric surgery.

First Monday of every month
6:00 to 7:00pm
Bouras Auditorium
Presenter: Muhammad Feteiha, MD

First and third Tuesday of every month
6:00 to 7:00pm
193 Morris Avenue, 2nd Floor, Springfield, NJ
Presenter: Ajay Goyal, MD

Third Monday of every month
12:45 to 1:45pm
Medical Arts Center (MAC) I, Suite 206
OPTIFAST Support Group
This group is open to patients currently enrolled in our OPTIFAST program.
Every Wednesday, 5:30 to 6:00pm
Medical Arts Center (MAC I)
33 Overlook Road, Summit, NJ
To register, please call 908-522-5794
Chambers Center for Well Being
The Chambers Center for Well Being can help you develop a personal plan for a healthier lifestyle. Through lectures, classes and therapeutic services, we'll show you how stress management, proper dietary balance and increased exercise can improve your overall well-being – mind, body and spirit. View a full list of classes, services and related fees > or call 908-598-7997.
Weight Management Articles