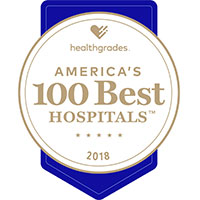 For the second year in a row (2017-2018), consumer health care ratings group Healthgrades® has named Overlook Medical Center one of "America's 100 Best Hospitals" for 2018. This distinction places us in the top two percent of hospitals in the nation for clinical performance across a broad spectrum of conditions and procedures. In addition, Healthgrades earlier this year presented us with the 2018 Distinguished Hospital Award for Clinical Excellence™, recognizing our commitment to quality and safety. This was the fifth consecutive time we've received this designation.
Women's Health Programs and Screenings
Education and prevention can keep you and your loved ones healthy. We invite you to take advantage of the programs, support groups and screenings available. Unless otherwise noted, to register for any of these programs call 1-800-247-9580 Monday through Thursday between 8:30am to 8:00pm and Friday between 8:30am and 4:30pm, or sign-up online at Atlantic Health System's classes and events registration; all programs are free unless a fee is indicated.
Oral Cancer Screenings
Receive a free cancer risk assessment and a visual screening of your mouth.

Tuesday, April 10; 9:00 to 11:00am
1000 Galloping Hill Road, Union, NJ

Thursday, April 12; 10:00am to Noon
Westfield YMCA, 220 Clark Street, Westfield, NJ

Tuesday, April 17; Noon to 2:00pm
ShopRite of Clark, 76 Central Avenue, Clark, NJ

Thursday, April 19; Noon to 2:00pm
Maplewood Library, 1688 Springfield Avenue, Maplewood, NJ

Tuesday, April 24; 1:00 to 3:00pm
North Plainfield Library, 6 Rockview Avenue, North Plainfield, NJ

For more information and to register, please call 1-800-247-9580.

Steps Toward a Healthy You
Learn how to make physical activity part of your daily routine. Our exercise physiologist will provide fitness instruction, including guidelines, safety and general tips. A workout kit and T-shirt are included; please wear comfortable clothing and sneakers.
Wednesdays, April 11 through May 16; 1:00 to 2:00pm
Atlantic Rehabilitation – New Providence, 550 Central Avenue, New Providence, NJ
For more information and to register, please call 1-800-247-9580.

Your Health Matters Lecture Series: What Should I Eat for Heart Health?
Take a tour of a Whole Foods store while having all of your questions answered by a cardiologist.
Saturday, April 14; 10:00 to 11:30am
Whole Foods, 319 Chimney Rock Road, Bridgewater, NJ
For more information and to register, please call 1-800-247-9580.

Coffee with a Cop
Drop by to ask questions, share concerns or simply meet members of the Summit Police Department while enjoying complimentary coffee and snacks. Registration is not required.
Thursday, April 19; 9:00 to 11:00am
Overlook Medical Center, Donna's Café

Normal Aging and the Brain
Learn how brain functions – memory, attention, decision making and spatial orientation – change as we age. Our specialist will discuss what's normal and symptoms that may require further evaluation.
Monday, April 23; 2:00 to 3:00pm
Maplewood Memorial Library 1688 Springfield Avenue, Maplewood, NJ
For more information and to register, please call 1-800-247-9580.

Spirituality and Aging
Learn how to age well and achieve more meaningful golden years. Lunch will be served.
Wednesday, April 25; Noon to 2:00pm
South Mountain Healthcare Rehabilitation
2385 Springfield Road, Vauxhall, NJ
For more information and to register, please call 1-800-247-9580.

Why Gardening is Important in Your Community
At the 2018 re-opening of the Summit community garden, our experts will discuss the health benefits of gardening and eating locally-grown produce. You'll also learn about the role that bees play in our food supply and how we make lip balm from the bees' wax collected at our hive.
Saturday, May 5; 10:00am to Noon
Overlook Medical Center
For more information and to register, please call 1-800-247-9580.

Ask the Pharmacist
Learn how to obtain more affordable medications and tips for safe and effective medication use.
Tuesday, May 15; 11:00am to 1:30pm
Decorso Senior Citizen Club
15 East 4th Street, New Providence, NJ
For more information and to register, please call 1-800-247-9580.

Living Your "Yes" with Arthritis
Learn about the different kinds of Arthritis, available resources, treatment options and self-management strategies.
Tuesday, May 15; Noon to 1:00pm
Senior Center of Chatham, 58 Meyersville Road, Chatham, NJ
For more information and to register, please call 1-800-247-9580.

Stroke: An Interactive Overview
Stroke is one of the leading causes of death and disability in the U.S., and knowing the signs and the symptoms can help to reduce your risk. Lunch and light refreshments will be served.
Tuesday, May 15; 11:00am to Noon
Mount Carmel Hall, 56 River Road, Berkley Heights, NJ
For more information and to register, please call 1-800-247-9580.

Bone Density Screenings for Women
Find out if you are at risk for developing osteoporosis with a noninvasive ultrasound that provides immediate results. Counseling and educational materials also are provided. Registration is required.
Fee: $10
Mondays, 10:00am to 1:00pm
Overlook Downtown, 357 Springfield Avenue, Summit, NJ

Lifestyle Change Program
We all know that a healthy lifestyle will help you feel and look your best. In this 12-week program, you'll learn how to reach and maintain all of your fitness, weight and wellness goals using supervised exercises, stress management and the nutrition plan of renowned physician Joel Fuhrman, MD.
Fee: $775 ($400 deposit required)
Mondays and Wednesdays; 10:00am to Noon, 11:00am to 1:00pm, 5:00 to 7:00pm or 6:00 to 8:00pm
Chambers Center for Well Being, 435 South Street, Morristown, NJ
For more information and a schedule, please call 973-971-4890.

Chambers Center for Well Being
The Chambers Center for Well Being can help you develop a personal plan for a healthier lifestyle. Through lectures, classes and therapeutic services, we'll show you how stress management, proper dietary balance and increased exercise can improve your overall well-being – mind, body and spirit. View a full list of classes, services and related fees > or call 908-598-7997.

Garden State Pulmonary Fibrosis Support Group
Adult patients in any stage of pulmonary fibrosis can share information and receive emotional support from others with similar experiences. Occasionally, health care professionals will also discuss related topics about this disease. Registration is not required.
Last Wednesday of every month, 7:00 to 9:00pm
Morristown Medical Center, Conference Room 3
For more information, please call 908-276-3394.

Chemical Dependency Intensive Outpatient Program
Three evening programs are available for those trying to remain abstinent from all substances.
Mondays, Wednesdays and Thursdays, 6:00 to 9:30pm
Atlantic Behavioral Health Outpatient, 46-48 Beauvoir Avenue, Summit, NJ
For more information and to register, please call 1-888-247-1400.

Substance Abuse Family Support Group
Participants will learn ways to cope with substance-abusing family members. No registration is required.
Tuesdays, 6:30 to 8:00pm
Atlantic Behavioral Health Outpatient, 46-48 Beauvoir Avenue, Summit, NJ
For more information, please call 908-522-4800.

HIV Support Group
In a private and confidential environment, this group provides support and information about HIV. Participants can meet other HIV patients who face the same fears and questions, and find solutions.
Second and fourth Thursdays, 7:00 to 9:00pm
Overlook Medical Center
For more information and to register, please call 973-714-3988.

Mindfulness Group
Men and women can learn how to use the power of the mind to help cope with illnesses. Registration is required.
Outpatient Behavioral Health at Overlook Medical Center, 46-48 Beauvoir Avenue, Summit, NJ
Presenter: Lanie Kessler-David, LCSW
For more information, a schedule and to register, please call 1-888-247-1400.

Mindfulness Group For Women
Learn how to use the power of the mind to help cope with illnesses. Registration is required.
Outpatient Behavioral Health at Overlook Medical Center, 46-48 Beauvoir Avenue, Summit, NJ
Presenter: Lanie Kessler-David, LCSW
For more information, a schedule and to register, please call 1-888-247-1400.

Cardiopulmonary Resuscitation (CPR) Courses
Atlantic Training Center offers American Heart Association CPR and first aid training courses. Learn more and register >
Women's Health Articles