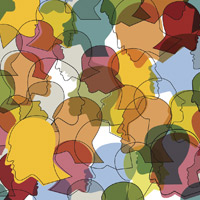 It can't be kept a secret any longer. One in six adults in this country suffer from a mental health condition, but many are too embarrassed to admit they have a problem. To combat this trend, Atlantic Health System participates in the No More Whispers program, which is designed to motivate people to openly discuss feelings of depression and other emotional challenges. Our next community outreach event – the Festival of Hope – will feature guest speaker Kevin Hines, who himself survived a suicide attempt from the Golden Gate Bridge and is now traveling the country, sharing his unique perspective on mental health awareness. It will be held on Saturday, September 15 from 9:00am to Noon at Chilton Medical Center. Learn more or email nomorewhispers@atlantichealth.org to register.
Women's Health Programs and Screenings
Education and prevention can keep you and your loved ones healthy. We invite you to take advantage of the programs, support groups and screenings available. Unless otherwise noted, to register for any of these programs call 1-800-247-9580 Monday through Thursday between 8:30am to 8:00pm and Friday between 8:30am and 4:30pm, or sign-up online at Atlantic Health System's classes and events registration; all programs are free unless a fee is indicated.
Lunch & Learn: Living Your Yes with Arthritis
Learn about different kinds of arthritis, available resources, treatment options and self-management strategies.
Fee: $5 fee for lunch for non-YMCA Members
Monday, July 9: 12:30pm to 1:30pm
Summit YMCA, 67 Maple Street, Summit, NJ
For more information, or to register, please call 908-273-3330.

Bone Density Screenings for Women
Find out if you are at risk for developing osteoporosis with a noninvasive ultrasound that provides immediate results. Counseling and educational materials also are provided. Registration is required.
Fee: $10
Mondays, 10:00am to 1:00pm
Overlook Downtown, 357 Springfield Avenue, Summit, NJ

Lifestyle Change Program
We all know that a healthy lifestyle will help you feel and look your best. In this 12-week program, you'll learn how to reach and maintain all of your fitness, weight and wellness goals using supervised exercises, stress management and the nutrition plan of renowned physician Joel Fuhrman, MD.
Fee: $775 ($400 deposit required)
Mondays and Wednesdays; 10:00am to Noon, 11:00am to 1:00pm, 5:00 to 7:00pm or 6:00 to 8:00pm
Chambers Center for Well Being, 435 South Street, Morristown, NJ
For more information and a schedule, please call 973-971-4890.

Chambers Center for Well Being
The Chambers Center for Well Being can help you develop a personal plan for a healthier lifestyle. Through lectures, classes and therapeutic services, we'll show you how stress management, proper dietary balance and increased exercise can improve your overall well-being – mind, body and spirit. View a full list of classes, services and related fees > or call 908-598-7997.

Garden State Pulmonary Fibrosis Support Group
Adult patients in any stage of pulmonary fibrosis can share information and receive emotional support from others with similar experiences. Occasionally, health care professionals will also discuss related topics about this disease. Registration is not required.
Last Wednesday of every month, 7:00 to 9:00pm
Morristown Medical Center, Conference Room 3
For more information, please call 908-276-3394.

Chemical Dependency Intensive Outpatient Program
Three evening programs are available for those trying to remain abstinent from all substances.
Mondays, Wednesdays and Thursdays, 6:00 to 9:30pm
Atlantic Behavioral Health Outpatient, 46-48 Beauvoir Avenue, Summit, NJ
For more information and to register, please call 1-888-247-1400.

Substance Abuse Family Support Group
Participants will learn ways to cope with substance-abusing family members. No registration is required.
Tuesdays, 6:30 to 8:00pm
Atlantic Behavioral Health Outpatient, 46-48 Beauvoir Avenue, Summit, NJ
For more information, please call 908-522-4800.

HIV Support Group
In a private and confidential environment, this group provides support and information about HIV. Participants can meet other HIV patients who face the same fears and questions, and find solutions.
Second and fourth Thursdays, 7:00 to 9:00pm
Overlook Medical Center
For more information and to register, please call 973-714-3988.

Cardiopulmonary Resuscitation (CPR) Courses
Atlantic Training Center offers American Heart Association CPR and first aid training courses. Learn more and register >
Women's Health Articles