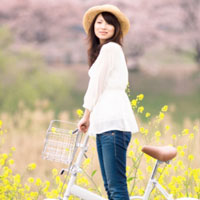 You may have heard that when purchasing sunblock, you should look for one that offers both UVA and UVB protection, but what does that really mean? UVA are long rays and can penetrate the deep layers of our skin, leading to premature aging and wrinkles over time. UVB, on the other hand, are short rays and responsible for the burns we receive on the surface of our skin after a day in the sun. So, slather on the right sunblock and you'll give yourself the greatest chance of keeping your skin healthy not only today, but also in the future. For more sun safety lessons, check out a recent episode of AtlantiCast >

Skin Health Articles
Education and prevention can keep you and your loved ones healthy. We invite you to take advantage of the programs, support groups and screenings available. Adults 65 and older who are looking to stay well with age may benefit from events labeled "New Vitality."

Don't Fri Day: National Sun Safety Awareness Event
See the effect of sun exposure on your skin by using our Dermaview machine and learn how to protect yourself from the harmful effects of the sun.
Tuesday, May 21; 10:00am to 11:30am
Livingston Town Hall, 357 S Livingston Avenue, Livingston
For more information, or to register, please call 908-522-2842.