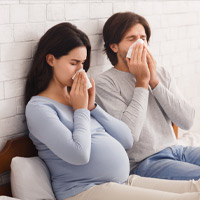 If you're expecting, you may find yourself asking some new questions this flu season. Influenza can impact anybody, but pregnant women are particularly vulnerable to the virus and its effects. Dr. Diana N. Contreras, Medical Director, Women's Health Service Line, Atlantic Health System answers some frequently asked questions, and provides tips on how you can protect yourself and your baby this flu season.
Learn more >>
Pregnancy Programs and Screenings
Education and prevention can keep you and your loved ones healthy. We invite you to take advantage of the programs, support groups and screenings available. Unless otherwise noted, all classes take place at Overlook Medical Center. For a schedule, fees and to register for the below Parent Education programs, please visit our website or call 908-522-2946.
Big Brother and Big Sister
Siblings can learn how to prepare for the arrival of a newborn brother or sister. Please have children bring their favorite stuff animal and a photo of themselves as a baby to the class.

Prepared Childbirth: Instruction for Labor and Birth
Topics include the birth process, such as signs and symptoms of labor, stages of labor, when to go to the hospital and what to bring with you; pain management strategies, such as breathing and relaxation techniques, comfort measures, massage, positioning, hydrotherapy, medication options and epidural anesthesia; hospital procedures; cesarean section; and physical and emotional recovery after birth. A tour of our maternity center and childbirth films are included. This class is also available in Spanish.

Childbirth Mini Class: Your Baby's Birth
Topics include the childbirth process, signs and stages of labor, and when to go to the hospital. Participants will also view a birthing video and take a tour of our maternity center, which provides an overview of the labor, delivery and postpartum experience at Overlook Medical Center.

Mindful Pregnancy and Birth
Topics include mindful meditation and breathing, stages of labor, comfort measures and positioning, medical interventions, choices in pain management, and hands-on practices. This class combines most of the material covered in our Prepared Childbirth program.

ABC's of Going Home with Your Baby
Topics include basic infant care, diapering, dressing, bathing, swaddling, holding, soothing, when to call the baby's doctor and how to manage with pets at home. Safety issues will also be addressed, including sleeping, cribs, car seats, baby products and baby-proofing your home.

Breastfeeding Your Baby: Getting Started
Topics include breast milk production, skin-to-skin care, positioning and latching, how long and often to feed, and how to tell if the baby is getting enough milk. Partners are welcome.

Breastfeeding Support Group: "The First Weeks at Home and Beyond"
This support group offers an opportunity for breastfeeding mothers and their babies to engage in open discussion on how to breastfeed successfully. Topics include common issues that arise during feeding, returning to the workplace, and proper use of a breast pump and milk storage.

Epidural Online Training
View a web-based audio/video health education program from Emmi® regarding epidurals. Please contact Overlook Medical Center's Anesthesiology Department at 908-598-1500 for an access code to view this program. Once you obtain the code, visit our website and then click on "Watch an Emmi Program."

Maternity Center Tour
Our patient liaison will be your guide as you get a first-hand look at our maternity center. Please note that tours are included in some of our parent education classes. For more information and to register, please call 1-800-247-9580.

Postpartum Group
New mothers meet and learn coping and relaxation skills to help them with their new role.
Thursdays; 10:30 to 11:30am
Atlantic Behavioral Health Outpatient, 46-48 Beauvoir Avenue, Summit, NJ
Presenter: Patricia Monaghan, LMFT
For more information and to register, please call 1-888-247-1400.


Chambers Center by PALM Health
Our state-of-the-art, personalized medicine clinic and wellness club offers a comprehensive range of medical, preventive care, mental health, fitness, nutrition, spa and therapeutic services designed to improve overall well-being. Learn more >
Pregnancy Articles