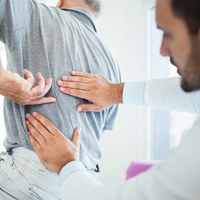 Whether the result of injury, arthritis or other condition, pain can have a direct impact on our ability to function. Find out how well you're managing pain and to what degree it limits your daily activities by taking a short health assessment. In doing so, you'll learn more about what specifically causes pain, the risk of recurrence and recommendations to reduce and prevent it. Take the quiz now >
Pain Management Programs and Screenings
Education and prevention can keep you and your loved ones healthy. We invite you to take advantage of the programs, support groups and screenings available. Adults 65 and older who are looking to stay well with age may benefit from events labeled "New Vitality."

Pain Support Group
This education and support group is open to people with chronic pain and their families.
First Monday of every month, 5:30 to 7:00pm
Overlook Medical Center, Fifth Floor, Neuroscience Community Conference Room
For more information and to register, please call 908-665-1988.

Chambers Center for Well Being
The Chambers Center for Well Being can help you develop a personal plan for a healthier lifestyle. Through lectures, classes and therapeutic services, we'll show you how stress management, proper dietary balance and increased exercise can improve your overall well-being – mind, body and spirit. View a full list of classes, services and related fees or call 908-598-7997.
Pain Management Articles