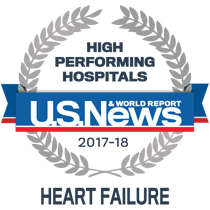 U.S. News & World Report recently recognized Overlook Medical Center as a best regional hospital, high performing in heart failure. This prestigious accolade exemplifies our commitment to providing our patients with the highest quality medical care using the latest diagnostic and treatment options available. See our full rankings or learn more about our treatment for heart failure >
Heart Disease Programs and Screenings
Education and prevention can keep you and your loved ones healthy. We invite you to take advantage of the programs, support groups and screenings available. Unless otherwise noted, to register for any of these programs call 1-800-247-9580 Monday through Thursday between 8:30am to 8:00pm and Friday between 8:30am and 4:30pm, or sign-up online at Atlantic Health System's classes and events registration; all programs are free unless a fee is indicated.

Pump it Up: Habits for a Healthy Heart
This interactive health fair will teach the benefits of healthy cooking, how oral health impacts the heart and the importance of physical activity. Children are welcome and samples from the cooking demonstrations will be provided.
Thursday, February 8; 12:30 to 2:00pm
Overlook Medical Center
For more information and to register, please call 1-800-247-9580.

Feed Your Heart
Learn how diet impacts your heart health and how to read a food label. Heart-healthy recipes and snack samples will be provided.
Wednesday, February 14; 10:30 to 11:30am
ShopRite of Union, 2401 US Highway 22 West, Union, NJ
For more information and to register, please call 1-800-247-9580.

Know Your Numbers
Have your blood pressure measured and learn your risk for Type 2 diabetes with a non-fasting finger stick that gives immediate results. Counseling and educational materials will be provided; registration is required.

Mondays, 11:00am to 2:00pm
Overlook Downtown, 357 Springfield Avenue, Summit, NJ

Tuesday, February 13; 1:00 to 3:00pm
North Plainfield Library, 6 Rockview Avenue, North Plainfield, NJ

Thursday, February 15; 10:00am to Noon
Westfield YMCA, 220 Clark Street, Westfield, NJ

For more information and to register, please call 1-800-247-9580.

Chambers Center for Well Being
The Chambers Center for Well Being can help you develop a personal plan for a healthier lifestyle. Through lectures, classes and therapeutic services, we'll show you how stress management, proper dietary balance and increased exercise can improve your overall well-being – mind, body and spirit. View a full list of classes, services and related fees or call 908-598-7997.
Heart Disease Articles