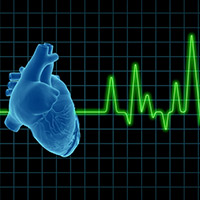 Mick Jagger's recent heart valve replacement surgery has drawn international awareness to advancements in cardiovascular medicine. Only a few years ago, such a procedure required open heart surgery with a lengthy recovery time. Today, however, surgeons can perform heart valve replacement via a catheter inserted into a small incision in the groin. Atlantic Health System's vice-chair of cardiovascular medicine John Brown, MD, recently answered questions about transcatheter aortic valve replacement (TAVR) and other options for patients with aortic stenosis or mitral valve regurgitation. Read the full Q&A >
Heart Disease Programs and Screenings

Education and prevention can keep you and your loved ones healthy. We invite you to take advantage of the programs, support groups and screenings available. Adults 65 and older who are looking to stay well with age may benefit from events labeled "New Vitality."
Stroke 101/Healthy Heart
Learn what happens within the body when a heart attack or stroke occurs. This presentation covers the symptoms of both conditions and appropriate response measures.
Friday, May 10; 11:30am to 12:30pm
Bauer Community Health, 100 Main Street, Millburn, New Jersey
For more information, or to register, please call 908-522-2842.

Men's Health Awareness, BMI and Glucose Screenings
Learn how your body fat percentage and BMI impact your heart health. This program includes Type 2 diabetes screenings that use a non-fasting finger stick for immediate results.
Tuesday, June 4; 10:00am to Noon
Gateway YMCA, 1000 Galloping Hill Road, Union, NJ

Wednesday, June 5; Noon to 2:00pm
Vita Gallo, 12 Chestnut Avenue, Summit, NJ

Thursday, June 6; 10:00am to Noon
Scotch Plains YMCA, 1340 Martine Avenue, Scotch Plains, NJ

Tuesday, June 11; 11:00am to 1:00pm
Shoprite of Clark, 76 Central Avenue, Clark, NJ

Thursday, June 13; 10:00am to Noon
Westfield YMCA, 220 Clark Street, Westfield, NJ
For more information and to register, please call 908-522-2842.

Chambers Center by PALM Health
Our state-of-the-art, personalized medicine clinic and wellness club offers a comprehensive range of medical, preventive care, mental health, fitness, nutrition, spa and therapeutic services designed to improve overall well-being. Learn more >
Heart Disease Articles