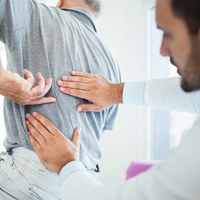 Whether the result of injury, arthritis or other condition, pain can have a direct impact on our ability to function. Find out how well you're managing pain and to what degree it limits your daily activities by taking a short health assessment. In doing so, you'll learn more about what specifically causes pain, the risk of recurrence and recommendations to reduce and prevent it. Take the quiz now >
Arthritis Programs and Screenings
Education and prevention can keep you and your loved ones healthy. Our programs provide information and outreach, physical activity and self-management services for people with arthritis and osteoporosis. For more information, please call the North Jersey Regional Arthritis Center toll free at 1-877-973-6500; to register, please call 1-800-247-9580.

Chambers Center for Well Being
The Chambers Center for Well Being can help you develop a personal plan for a healthier lifestyle. Through lectures, classes and therapeutic services, we'll show you how stress management, proper dietary balance and increased exercise can improve your overall well-being – mind, body and spirit. View a full list of classes, services and related fees or call 908-598-7997.
Arthritis Articles