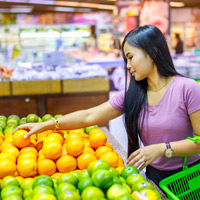 Local farms may be a frozen tundra right now, but that doesn't mean you have to resort to processed foods. There are plenty of fruits and vegetables that are considered in-season during winter and available at your local grocer. In fact, citrus fruits – like oranges, clementines and grapefruits – tend to be at their sweetest this time of the year. For optimal taste, look for ones that feel heavy for their size and have a bright colored skin.
See more winter produce ideas >
Diabetes Programs and Screenings
Education and prevention can keep you and your loved ones healthy. We invite you to take advantage of the programs, support groups and screenings available. Adults 65 and older who are looking to stay well with age may benefit from events labeled "New Vitality."

Taking Steps to Control Diabetes
This is a self-management education course designed to help patients and their families plan meals, monitor blood sugar, prevent complications and implement healthy lifestyle habits. Individual and group classes are available and are covered by Medicare and most major insurers.
Overlook Medical Center
For a schedule and to register, please call 908-522-5277.

Chambers Center for Well Being
The Chambers Center for Well Being can help you develop a personal plan for a healthier lifestyle. Through lectures, classes and therapeutic services, we'll show you how stress management, proper dietary balance and increased exercise can improve your overall well-being – mind, body and spirit. View a full list of classes, services and related fees or call 908-598-7997.
Diabetes Articles